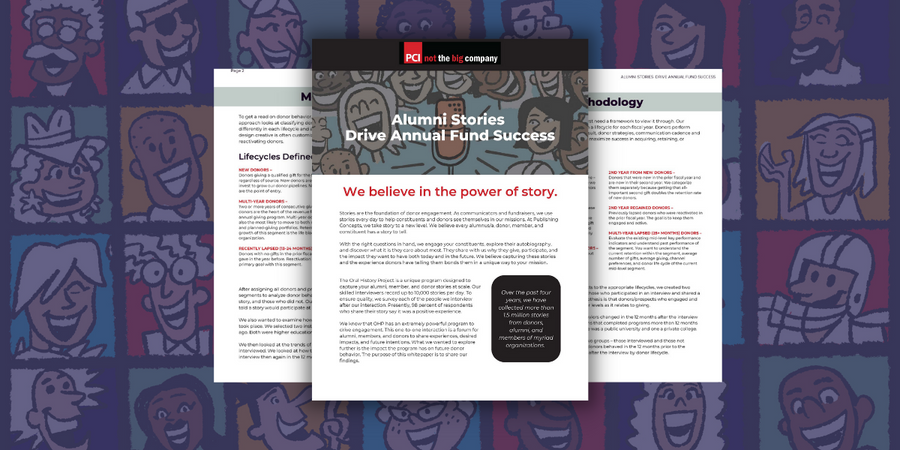 White Paper
ALUMNI STORIES DRIVE ANNUAL FUND SUCCESS
We believe in the power of story.
Stories are the foundation of donor engagement. As communicators and fundraisers, we use stories every day to help constituents and donors see themselves in our missions. At Publishing Concepts, we take story to a new level. We believe every alumnus/a, donor, member, and constituent has a story to tell.
With the right questions in hand, we engage your constituents, explore their autobiography, and discover what it is they care about most. They share with us why they give, participate, and the impact they want to have both today and in the future. We believe capturing these stories and the experience donors have telling them bonds them in a unique way to your mission.
The Oral History Project is a unique program designed to capture your alumni, member, and donor stories at scale. Our skilled interviewers record up to 10,000 stories per day. To ensure quality, we survey each of the people we interview after our interaction. Presently, 98 percent of respondents who share their story say it was a positive experience.
We know that OHP has an extremely powerful program to drive engagement. This one-to-one interaction is a forum for alumni, members, and donors to share experiences, desired impacts, and future intentions. What we wanted to explore further is the impact the program has on future donor behavior. The purpose of this whitepaper is to share our findings.
START YOUR ORAL HISTORY PROJECT TODAY!
Preserve your engaging stories now, while you can.